Buy Your Super Smash Tickets and Win a Ford Fiesta!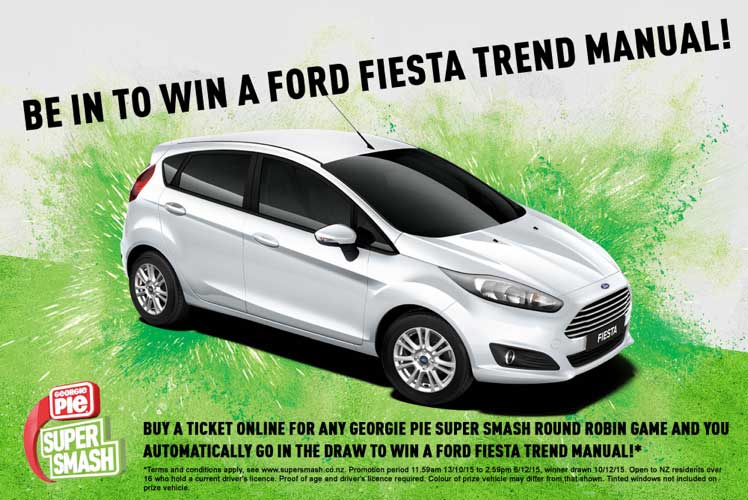 Who's up for a free brand new car? Buy your Georgie Pie Super Smash Northern Knights tickets online now and you'll be in the draw to win a Ford Fiesta Trend Manual!
The Northern Knights season of Georgie Pie Super Smash starts on 6th November at Seddon Park, each game includes a three-hour entertainment package that will strike a big chord with kids and families.
We've got heaps of free, fun activities to entertain the kids on the sidelines, so a family day out with a Family Pass ($30 for two adults and three kids) is real value for money. Single adult ticket prices are attractively priced, too, just $15 to see some of the country's most exciting Twenty20 stars in action.
Just like our Georgie Pie Super Smash stars, the Ford Fiesta Trend Manual continues to push the boundaries as the small car that stands out from the competition. Small, smart and stylish, the Ford Fiesta Trend Manual is popular all around the world - recognised for its in fuel efficiency, performance and personality.
With a stylish and bold exterior, and an interior optimised for ergonomics as well as Ford's hands-free in-car connectivity system SYNC®, the Ford Fiesta is not only fashionable and functional, it's one of the most fun cars to drive in New Zealand.
And that's what Georgie Pie Super Smash is all about - fun! So book your tickets now to come along and support your Knights playing in Georgie Pie Super Smash 2015.
Terms and Conditions.
BONUS PRIZE - WIN A BBQ WITH THE KNIGHTS!
Buy a ticket for any Northern Knights home game online for the Georgie Pie Super Smash and go in the draw to win a BBQ at your place with the players and 10 of your friends!